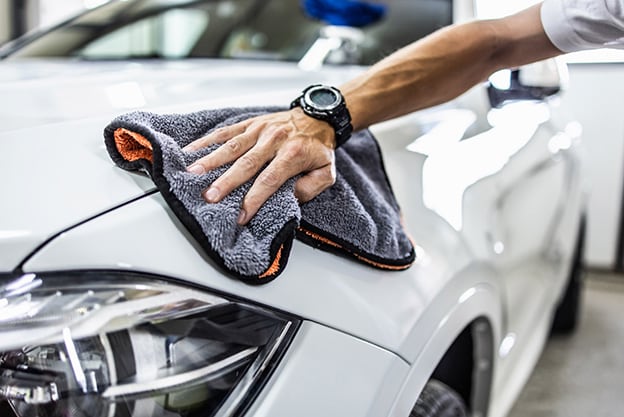 Expert Honda Detailing Service in Toronto, Ontario, at RoadSport Honda
Despite what some people may think, a car wash and a car detail are not the same Honda Service. You can wash your car at home or drive through an automated system to remove the everyday dust and debris. But with detailed service, an experienced detailing specialist goes beyond a normal wash for a deeper clean that maintains the vehicles' quality. To get this done the right way, you should bring it to our dealership. No matter if you want your car cleaned or a Honda maintenance update, we will provide you with top-notch service every time. Roadsport Honda, located at 940 Ellesmere Road in Toronto, Ontario, is proud to offer expert detailing services to our valued customers throughout Toronto, Markham, Scarborough, Richmond Hill, Pickering and surrounding areas of Ontario. Let's review the benefits of our detailing service, and be sure to view our detailing packages online today.
An Overview of Honda Detailing Services
Fortunately, our Honda-trained professionals that work at our detailing centre in Toronto understand that special care is necessary to the paint, leather, rubber, trim, and other parts of your vehicle. You can rely on their professional training to preserve your investment.
Car detailing is classified into two segments: Interior and Exterior, let's explore both:
Exterior detailing includes cleaning, polishing, and reviving the outside components of your car like the side panels, hood, bumper, and wheels. Our Honda detailing services in Pickering often use high-quality detergents, waxes, degreasers, and polishes to get this done.
Interior detailing focuses on improving the look and cleanliness inside the cabin of your vehicle. The minimum steps to get this done can include vacuuming and wiping down the dash and console. Our expert Honda detailing services in Toronto may use more sophisticated efforts that include steam cleaning as well as polishes and cleansers that can prevent cracking and discoloration from the sun.
Car Detailing Beneficial is More Beneficial Than You Think
Great Experience
Driving a car after Honda detailing services in Toronto is a tremendously satisfying experience. It could surely improve any mood that you are in and will reveal that you take good care of your vehicle. With the way that your vehicle will look, you will feel confident and proud wherever you go. Also, if your car is for business purposes, Honda detailing services in Toronto will demonstrate that you are professional and neat.
Restored Appearance
A Honda is always a great car, but when you first buy one, it can feel quite wonderful. Regardless of buying the car used or new, the initial clean condition is hard to forget. Over time, you lose a lot of that shine even if you wash your car regularly. With our Honda detailing services in Scarborough, you can get see that original glory restored. Our team will thoroughly tackle every bit of dirt, stains, scratches, etc.
Healthier transport
As you drive your vehicle, dirt and dust can overtake the interior and make it look dingy. But, there is more going on that what you can see. These particles also get into your ventilation system, embedded deep into the upholstery, and can cause allergies or asthma issues, and more importantly, with the current COVID-19 pandemic, it's best to ensure you're always protected. With our Honda detailing services in Markham, your car will be better cleaned and less harmful to your health. The focused care largely helps with reducing environmental vulnerability.
Skilled Honda Detailing Technicians
When you arrive at a dealership for Honda detailing services in Toronto, you won't find disgruntled workers waiting to get off. Instead, you will be greeted by an excellent team that Honda has properly trained to treat you and your vehicle with outstanding service and care. They use a well-developed process that will meticulously clean your entire vehicle. Plus, they use top of the line cleaning agents that will sanitize and clean without compromising your health.
Worthwhile Detailing Packages
If you are looking for a variety of services to meet your needs, our Honda detailing services in Richmond Hill is a great way to start. We are never looking for ways to push you into detailing packages you don't need. Instead, we collaborate with you to select the bundle of services that matches what you want to see in your vehicle and the price point that fits your budget. These offerings range from washes and minor restoration to deep shampooing and upholstery protection.
Get back to the original feeling from when first purchased your vehicle. We can help even if you are driving a different brand or a car that didn't get from the dealership. You can come to our dealership to see what the fanfare is all about. Schedule an appointment online or contact us today to set one up.