2024 Honda Civic in Scarborough, ON
2024 Honda Civic in Scarborough, ON
The 2024 Honda Civic Scarborough model has finally made its debut, and this article will take an in-depth look at all the notable changes, features, and improvements that make this version a highly sought-after vehicle.
Notable Changes from the Previous Year
One of the most significant changes for the 2024 Honda Civic is the introduction of a hybrid powertrain option. Both the sedan and hatchback models now offer a hybrid version, combining a four-cylinder engine with two electric motors. This hybrid system is expected to deliver a horsepower range between 180 and 200, ensuring impressive performance and fuel efficiency. The hybrid powertrain draws inspiration from the successful Accord hybrid.
Infotainment and Technology Features
Moving on to the infotainment and technology features, the 2024 Civic comes equipped with a standard 7.0-inch touchscreen display, providing easy access to various functions. However, for those who prefer a larger screen, there is an optional 9.0-inch unit available. To further enhance the technological experience, a 10.2-inch digital gauge display can be added as an option. Seamless smartphone integration is made possible with standard Apple CarPlay and Android Auto. 
Exterior Design
In terms of exterior design, the 2024 Honda Civic boasts a head-turning appearance that exudes athleticism and refinement. The striking LED daytime running lights and LED high- and low-beam headlights not only enhance visibility but also contribute to the overall aesthetic appeal. The Civic offers a variety of wheel options to suit individual preferences. Every Civic sedan comes with all-season tires, and customers have the choice between 16" steel rims or the available 16" or 18" aluminum alloy wheels, allowing for a personalized style statement on the road.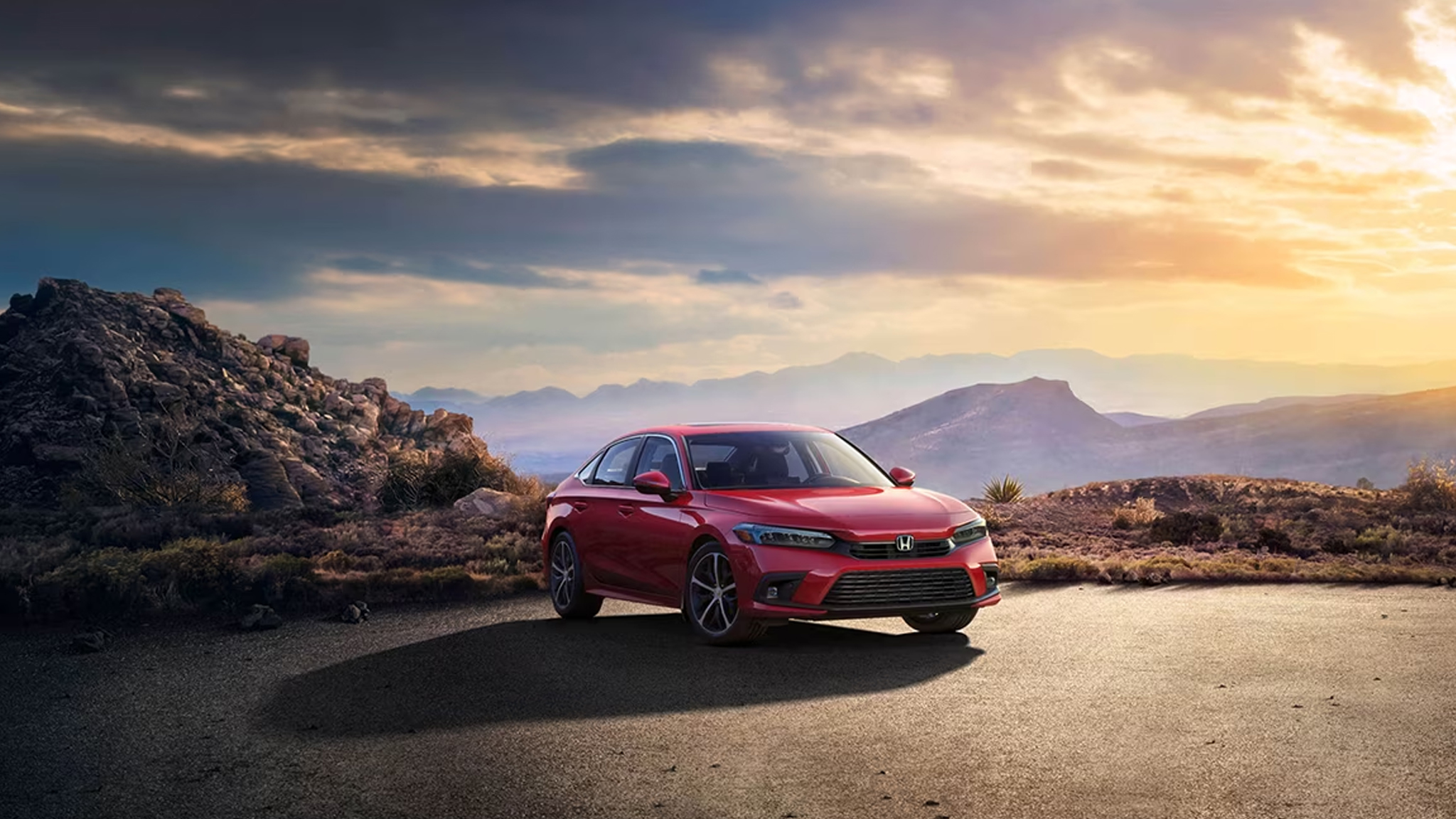 Interior Comfort and Cargo Space
Moving inside, the 2024 Civic features a streamlined and uncluttered design compared to the previous model. The wide center console offers a large, deep bin ahead of the shift lever, providing convenient storage space for smartphones, keys, and road-trip snacks. Passenger comfort remains a priority, with ample space for occupants. The seating layout and dimensions remain consistent, ensuring a roomy and enjoyable experience for everyone.
Engine and Performance Features
When it comes to the engine and performance features, the 2024 Honda Civic retains the same powertrain options introduced in the 2022 redesign. Base models are equipped with a 158-horsepower 2.0-litre four-cylinder engine. An upgraded turbocharged 1.5-litre four-cylinder engine is also available, producing 180 horsepower for an extra boost in power. The upgraded engine is offered exclusively on front-wheel-drive models.
Safety Features
Safety is a top priority for Honda, and the 2024 Civic comes equipped with a range of standard driver-assistance features. Automated emergency braking with pedestrian detection is among the standard safety features, allowing the vehicle to detect potential collisions and automatically apply the brakes to mitigate or avoid accidents.
Trims With Pricing*
LX-B $28,754

EX $31,614

Sport $32,711

Touring $36,461
Reserve Yours Today
The 2024 Honda Civic is an exceptional vehicle that introduces exciting new features and enhancements to the beloved model. With the addition of a hybrid powertrain, advanced infotainment system, sleek exterior design, spacious interior, and a range of safety features, the Civic continues to prove why it is a top contender in the compact car segment. Visit Roadsport Honda today and experience the exceptional 2024 Honda Civic for yourself in Scarborough, ON.

All pricing is based on Ontario MSRP and does not include taxes and fees. Dealer pricing may differ. Prices are subject to change anytime without notice.